BRAND IDENTITY DEVELOPMENT
BUILDING BRAND
As LS Black Constructors grew over the years, it needed a brand that reflected that evolution – promoting the firms core values and unique services offered to both clients and project partners.
Intro
Reflecting heart, passion, and personnality through consistent visuals and a strong voice.
LS Black formed a strategic plan in 2016 which capitalized on the strengths of its history, people, and experiences.  As they moved into execution of this plan and newly found vision for the firm's future, a new brand identity was created to communicate LS Black's personality and build upon the organization's unique approach to partnering and customer service. In all, the new brand draws inspiration from LS Black's humble beginnings, while also celebrating who it has become over the years.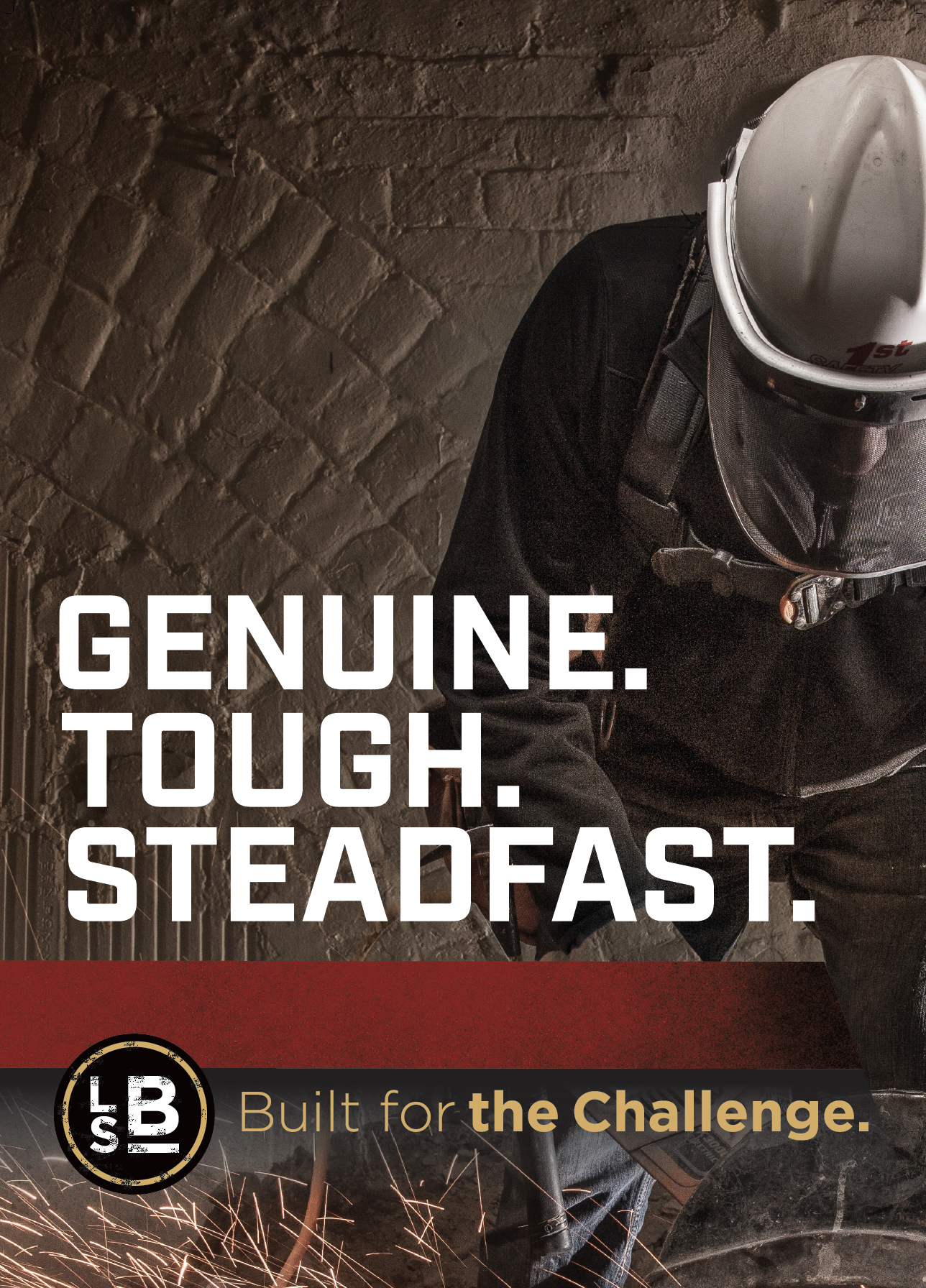 Details
A bold approach, for a bold firm.
Challenge
Help identify who LS Black believes themselves to be internally and unite that image with how people perceive them externally then develop a brand concept to support and tell that story, all within an expedited timeframe.
Solution
Both visual and verbal elements representing LS Black Constructors´ identity were developed, including a new logo, color palette and graphic elements creating a consistent and controlled message of who they are, presenting a strong, unified image of the firm. 
Visual Elements
Logo: The LS Black primary Logo is comprised of two elements, the badge and logo type. The primary element is a solid badge, symbolizing authority, strength, and reputation. The Logo Type was chosen for its modern and refined, highly legible style, which was further enhanced by the use of the negative space within the "A" letter form. The knockout represents the progress and forward thinking mentality of the LS Black firm. The letter form features two prominant typefaces, including Gotham Bold and Industry Bold. These have also been chosen to compliment and balance perfectly with the logo symbol, while evoking strength and solidarity.
The corporate logo is presented through the use of color as well as shape and form. The three colors represented in the logo are Black, Gold, and White. It is a bold and classic blend of color chosen for their strong combination – modern yet – classic and timeless feel with a hint of grit added for a tough and vintage look.
Secondary Logo: The LS Black secondary Logo was created to serve as an additional brand element, used in conjunction with the primary logo. As a firm who consistently refers to themselves as LSB, the secondary logo was created to represent this abbreviated firm name while also offering variety, encouraging balance, creativity, flexibility and cohesiveness. 
The secondary logo consists of a solid circle surrounding the firms initials. The B is underlined to emphasize the family name "Black" as well as emphasis the bold character of the firm.  
Graphic Elements: The LS Black graphic elements consist of a variety of additional smaller design details that help build upong the brand and make it consistent. These elements include textures, line style treatments, use of white space and color blocks. 
Color Palette: 
BLACK: power, strength, authority, elegance, formality,  and sophistication 

CRIMSON: strength and power 

GOLD: compassion, courage, honor, noble, wisdom 
Photography Style: Working with Jim Gallop, we were able to capture a series of brand photos which encapsulate the spirit (determination, passion and hard-work) of the LS Black team. Through light, contrast and grit the photos are then accentuated to further enhance the look and feel of the brand tone and personality.
Testimonial
"Michele has proven to be a very dynamic leader in helping LS Black understand who we are and what value we bring to our customers. Using that information Michele created messaging that speaks to our customers and construction partners that has moved our business to the next level. I would highly recommend Michele if you need a professional to create or improve your corporate image."
Robert Dew, Former President, LS Black Constructors