So you're ready to begin defining your brand strategy. Before you can define your brand strategy it's critical that you understand your current position in the market, how buyers perceive you, and where the market opportunities lie. This is a five step process including:
1. Define goals and challenges: where as a marketer are you struggling? Are there opportunities you're consistently pursuing with zero results? Are there negative perceptions in the market place? Are there new markets you'd like to break into but you aren't having any success?
2. Conduct an internal round table discussion: conducting an internal round table discussion with firm leaders and decision makers asking a variety of questions, including:
What is your long-term vision for the company?
How do you believe the firm is perceived externally?
How do you perceive the firm internally?
How do you want to be perceived?
What is the biggest challenge the firm faces?
Conduct external research: this includes conducting a series of interviews by phone or in-person to help determine how your firm is perceived externally and what your biggest challenges are. Interviews should be done with: internal staff, current clients, past clients, prospective clients, influencers, competitors, project partners. Ask questions, including:
Why did you choose us?
What did we provide you can't find elsewhere?
What attributes do you count on that would be the hardest to replace if our business weren't available to you?
Though it's not necessary, I encourage you to hire a third party to conduct these interviews. This will ensure you receive honest answers.
Competitive analysis: Now it's time to analyze how your competition is positioning itself. The goal of this phase is to answer questions, including:
How are they attempting to position themselves?
What are their key messages and differentiators?
How are they being perceived externally?
What is working and what isn't?
Below are a few examples of how I analyze the competition from a brand messaging and positioning standpoint.
 The next step is to determine where you need to position your firm in the minds of your targeted audience. Consider:
What are the goals of your firm?
Where are you currently struggling?
How can you address those those challenges?
What are you particularly good at and how can you leverage those strengths?
What are your firms values and culture? Unless you're a new business your probably not going to fire everyone and completely start over, so you need to be authentic to your firm's history and culture.
And last but not least, what are your clients/customers telling you they need?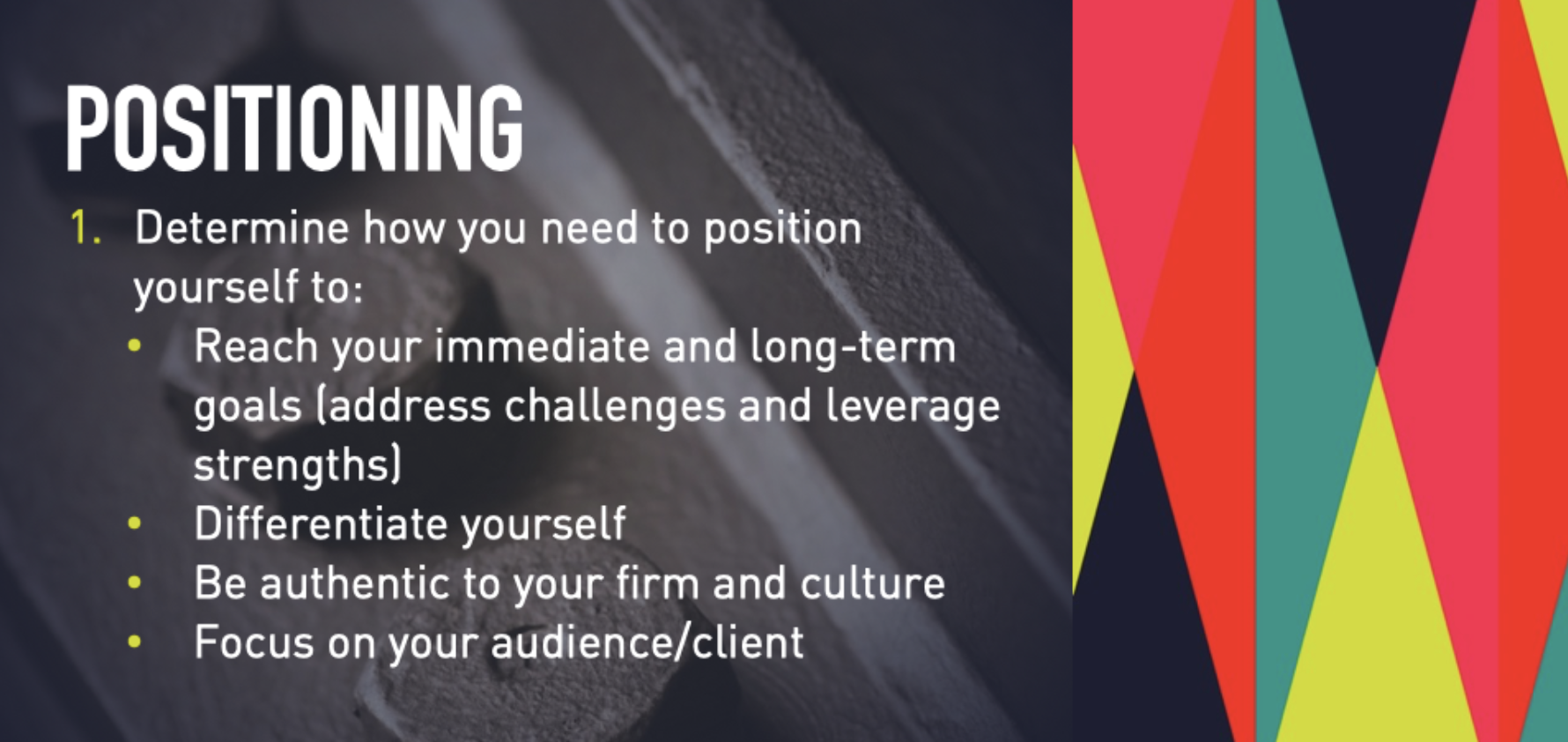 Now's the time to refer back to your external research. Focus on the answers to the questions:
Why do customers choose your business?
What do they seek from you that they can't get elsewhere?
What attributes do customers count on that they would find the hardest to replace if your business weren't available to them?
This is when you can refer back to the positioning spectrum and determine what you need to do to stand out while remaining authentic. Once it's been determined your ready to start building your brand personality.
Are you ready to get to work building your brand? Check out my next blog post Internal Branding – Part 4: Building Your Brand.