This past Wednesday, I had the pleasure of speaking at SMPS' Twin Cities Educational Breakfast about something, since a young age, I've been very passionate and excited about, branding. My love for brands began at a young age.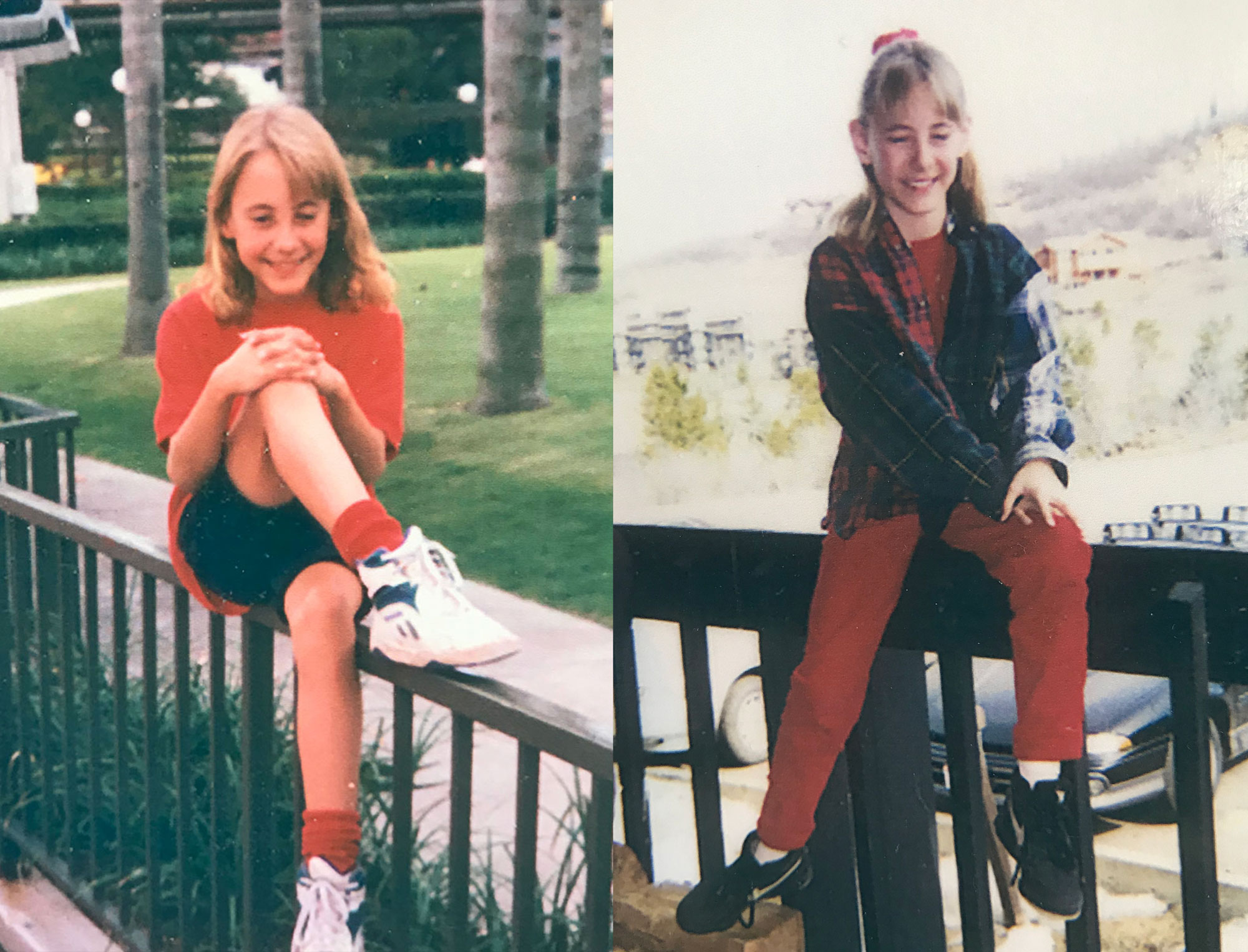 That's me, back in the 90's. Besides having my eyes half shut and very fashionable attire, there's something else that these two photos have in common. Can you pin point it?…Yep, that's right, my totally awesome high top tennis shoes. On the left I'm pictured wearing my favorite Reebok high tops, and on the right I'm sporting my first pair of classic Nike Air Force Ones. It was around this time in my life was when I developed an obsession with high-top tennis shoes… I remember doing chores around the house non-stop, mowing lawns, babysitting and saving every penny I made to purchase these shoes.
One pair in particular stands out in my mind…they were a pair of purple and teal KangaRoos. I remember I had seen a commercial that really made me want these shoes. Though Kangaroo's differentiated themselves by having a hidden pocket, which started off on the side and later moved to the tongue of the shoe, I for some reason was under the impression that If I had these shoes I would be able to jump higher than anyone, like a Kangaroo.
Later in life, I turned this passion into a job when I snagged a position at Journeys in the Mall of America. I made a unique roll for myself at Journeys by not just working in the store but by drawing people into the store. You see, I had a pair of these amazing shoes with the wheels on the bottom of the heel…who remembers those? Every parents nightmare I'm sure. My dad thought these were so dangerous, I remember him taking them away and hiding them. So what did I do? I, of course, skipped school and searched the house high and low until I got my shoes back. 

These were the shoes, a mix between skater shoes and actual skates. They're called Heelys, which they apparently still sell by the way… I found a bunch of really cool videos on you tube, check them out. It will help you imagine how cool I was skating around the MOA.
Anyway, like I said, I created a unique roll for myself, skating up and down the hallway doing spins and "tricks" attracting attention. Telling people to stop in Journeys and check out their selection of awesome footwear. I'd then go back to the store and work the sales floor. The job paid commission so, needless to say, it was a pretty good gig for a high school student. And even better, I got a discount!
So why am I telling you story about my love for shoes? Because it all started with a brand. From Reebok to Nike to those highly coveted Kangaroos. These brands were about being young, rebellious, and competitive. All traits that I connected with. The love I had for these brands made me a brand advocate, which is really the goal of any good brand, whether B2B or B2C.
Create a connection with your audience
Deliver on your brand promise
Build advocacy around your product or service
Want to learn more? Check out my next blog post on The Power of Brand.