WEBSITE DESIGN & DEVELOPMENT
STRENGTHENING AN ALREADY SOLID FOUNDATION
As Sever Construction continued to grow and expand their team, including adding an experienced sales and marketing professional, it too was time to refine their online presence.  
Intro
Simplifying a site through consistency, relevancy, and clarity.
With a new focus on sales and marketing, Sever Construction was in need of a new website. Currently utilizing an outdated platform, the team decided to migrate their existing site to WordPress, while simultaneously doing a complete site redesign including color palette, information architecture and site layout, as well as a number of content updates.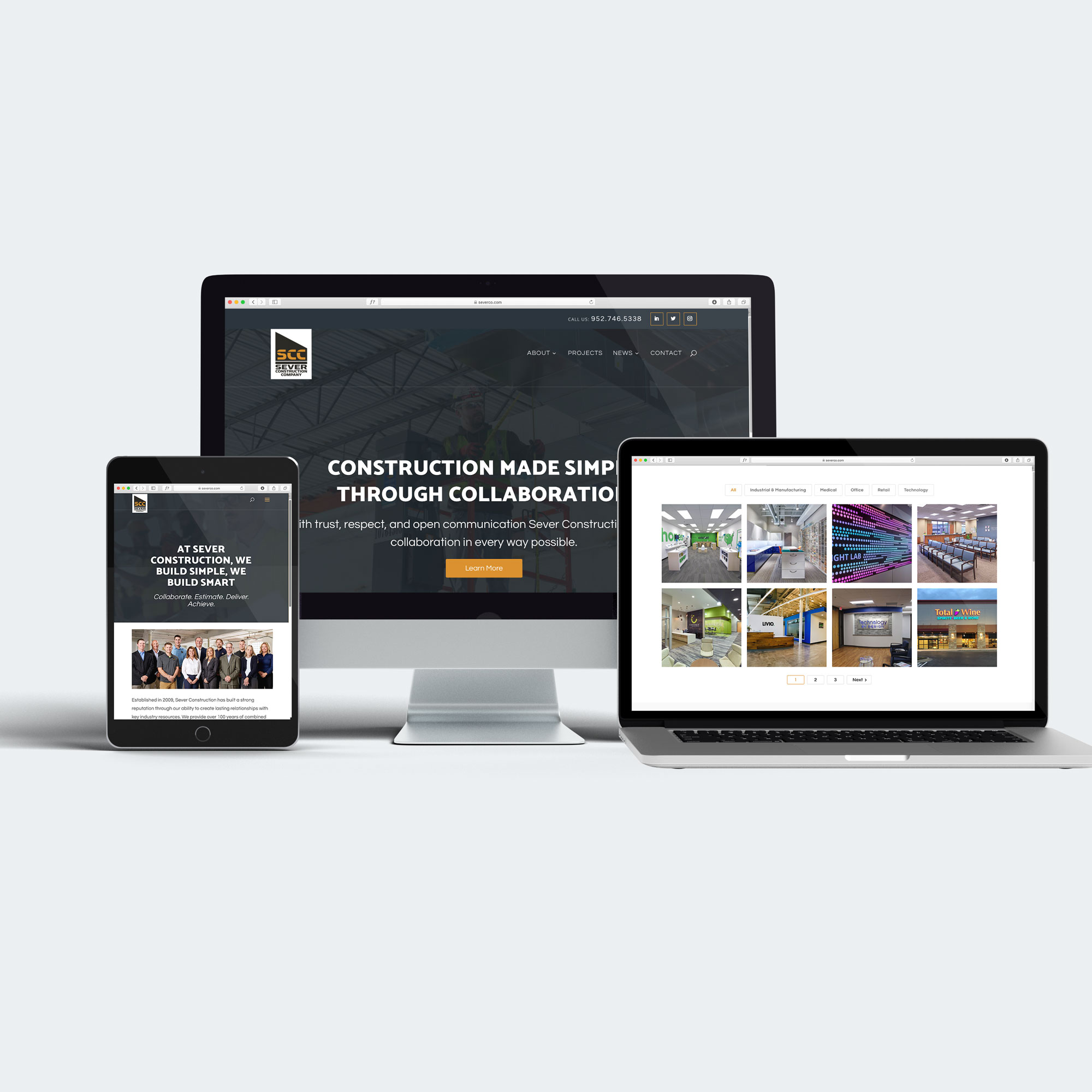 Details
A simplified site, for a firm focused on simplifying the construction process.
Challenge
Design and develop a new website utilzing wordpress, while simultaneously refining existing brand messaging to clarify, simplify, and create consistency.
Solution
Instead of simply recreating what they already had and migrating it to WordPress, we took this opportunity to refine and refresh the entire site, building upon who the firm had already established themselves to be – a leader in the commerical real estate market that works collaboratively to make the construction process simple.
The Project
The new website for Sever Construction, was designed with a focus on simplicity to mimick the firm's tagline "Construction Made Simple Through Collaboration".  This meant a completely redesigned layout, including information architecture and site map to increase usability and functionality. Additional work included:
Simplified value proposition

More clearly defined services
Simpler process definition
Created impactful call to actions
Consistent messaging throughout
Created more than 30 project pages including revised project descriptions and edited photography
Designed new employee bio pages, non-existent on old site
Launched a new email marketing campaign platform
New Newsletter design to coincide with updated website
Implemented shorter, simpler and straight to the point headlines to help minimize scrolling, increase click through rates and site visits
Mobile optimization
Internal team training
Though updates to the site have been ongoing and have been implemented by the internal Sever team, I encourage you to check it out by visiting www.severco.com.