digital marketing
REFINING AN ESTABLISHED BRAND
Intro
Innovative Solutions. Meaningful Partnerships.
In 2018 Timco Construction hired Design Mode to help lead the team in an ongoing effort to increase brand visibility and awareness, while also enhancing + refining their overall image to better position the firm as a thought leader in the healthcare & modular construction markets.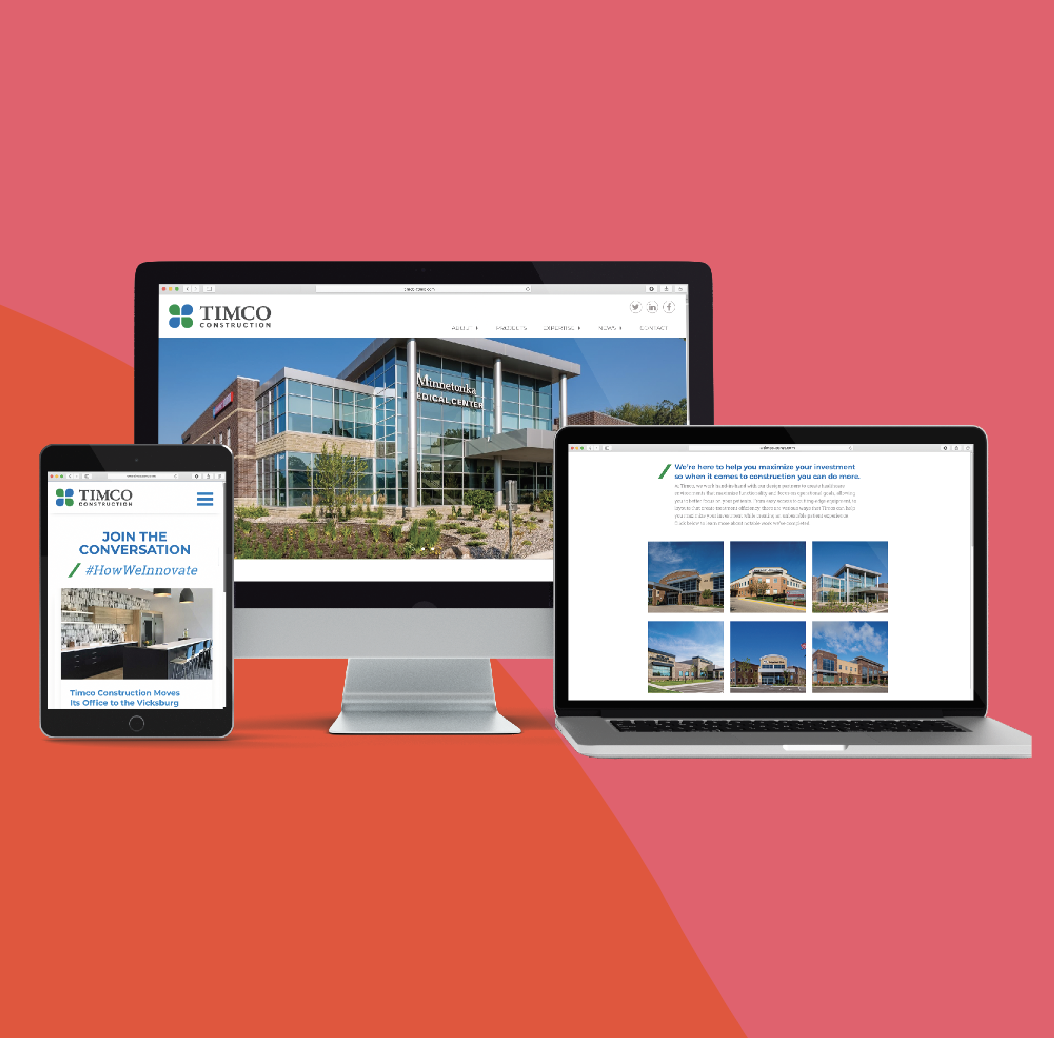 Details
A sophisticated approach for a growing healthcare builder.
GOAL
With a new strategic partner, adaptt LLC, bringing a focus on both modular construction and sustainability, Timco Construction was ready to reposition their brand with two driving goals in mind: 1. Refine their brand identity, and 2. To elevate their strategic partner within the local construction marketplace.  
Strategy
To help bring alignment to the two brands, consistent visual and verbal elements were created and incorporated into a strong digital marketing plan. A new shared tagline "Innovative Solutions. Meaningful Partnerships" was created along with shared promotional content to tie the firms together and build brand recognition for both brands simultaneously. 
Design Elements
Work on this project is ongoing and has included: a shared tagline for both firms "Innovative Solutions, Meaningful Partnerships", a presence on social media for both firms. a strategic content calendar with information both firms can leverage paired with a hashtag of HowWeInnovate, the launch of a new Timco website with an updated look and feel, new functionality, and a news page to house strategic marketing content. Work on the website is ongoing with a planned Phase II release to happen this winter and ongoing content creation.
Results
A 135% overall increase of Facebook followers and a 500% increase in post engagement.
Brand new LinkedIn page has been steadily growing with over 2.2K post impressions regularly and a steady increase of followers.
Google analytic reports show an overall increase of website visitors since launch, with the majority of visitors spending an average of 3 minutes focusing on the about us and news section of the site meeting initial goals.

 
Success: After one year of adaptt LLC being in business with Timco Construction they received the "2019 New Partner of the Year Award" from DIRTT Environmental Solutions for the biggest revenue growth of any distribution partner.
For more project collateral please visit Timco Construction's website and pay special attention to the news section. To view ongoing marketing efforts, follow Timco on LinkedIn, Facebook and Twitter.